Greetings from Dr.Fabbro!
this video is for you
strong ethic…
Very professional and Kind. Dr. Omar has always the right solution whatever your dental situation or problem is. I highly
…
Very professional and Kind. Dr. Omar has always the right solution whatever your dental situation or problem is. I highly recommend him for the fact that he is also able to follow you step by step and to explain the process in details. In addition I did have the occasion to be reassured on his strong ethic as he always counsel the healthiest way rather than the most expensive. Thanks Dr. Omar!
Donna S M
Much more than a Dentist: you will gain self-confidence while we will take care of your smile in a painless and stress-free environment. 
Smile Confidently, it's easy with Dr. Omar Fabbro!
What I was looking for!
I'm so happy! The process was really smooth and he listen to me and all my requests. We even changed the to central Veneers two time to perfectly find what I was looking for. I strongly recommend Dr.Omar Fabbro
I'm very happy of the result!
Another Dentist suggested me to extract the tooth and place an implant, instead Dr. Omar was capable the save what was remained of my broken tooth and he also created a crown that is matching perfectly with the others.
It was easier than expected!
The Whitening process was well explained in detail before starting the procedure. He only use top quality products opened specifically for the occasion. The result was Great!
Thank you Dr. Fabbro.
DR.OMAR FABBRO'S MULTIDISCIPLINARY APPROACH WILL HELP ACHIEVE THE RESULT THAT YOU AND YOUR FAMILY WERE LOOKING FOR!
We convey to our patients the importance of a healthy smile, essential for a long-lasting result.
LIFE-CHANGING APPROACH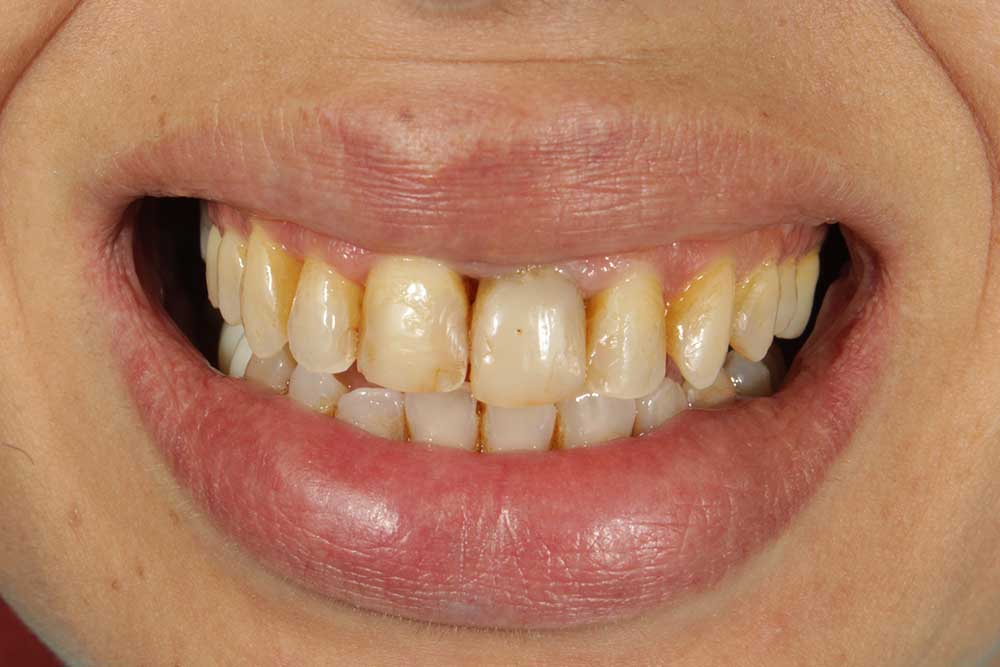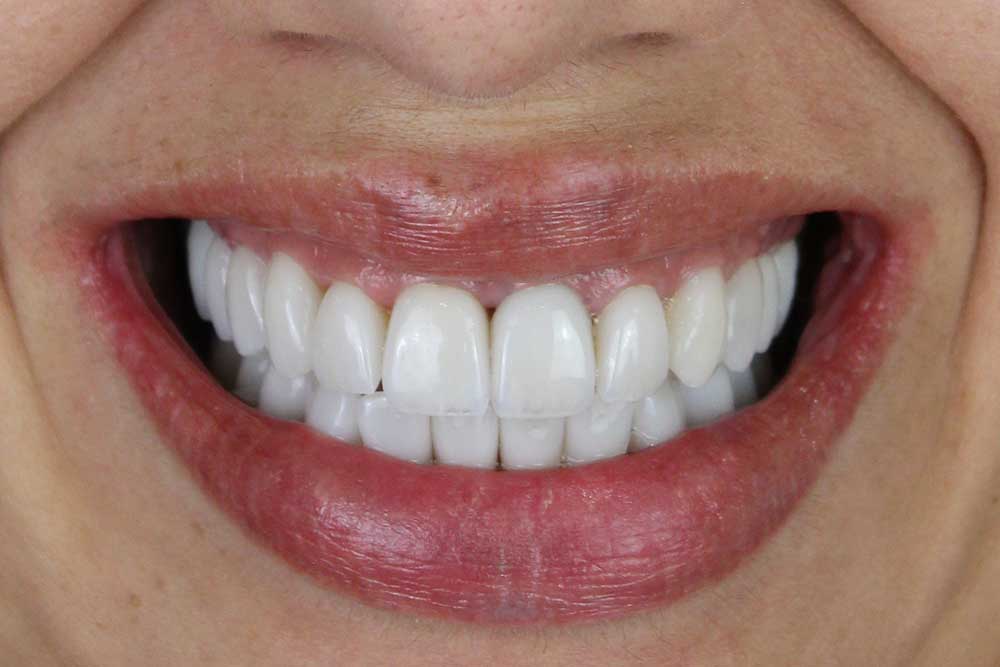 HOW CAN I CHANGE YOUR LIFE: A Multidisciplinary Approach
This young female patient was referred to Dr. Omar Fabbro following severe muscular fatigue and headaches caused by postural and occlusal dysfunctions and to improve her smile that was limiting her confidence and social interactions.
A combination of the following treatments was used to yield an aesthetic and functional result addressing the patient's concerns:
Invisalign - Clear Alligners
Italian Ceramic Veneers
Italian Ceramic Crowns
Root Canals
Italian Inlays & Onlays
DR. OMAR FABBRO'S PATIENT-CENTRIC METHOD ENCOURAGES YOU TO VALUE YOUR SMILE AND ORAL HEALTH.
Dr. Omar Fabbro is a highly skilled Italian Dentist holding a Master in Oral Implantology and an Italian Master in Orthodontic and TMJ Disorders Therapy with an exceptional eye for aesthetic and cosmetic dentistry.
A top graduate at the University of L'Aquila (Italy), Dr. Fabbro started his clinical and research activities early on in his university career at the department of Orthodontics and TMJ. He then achieved firstly the title of "Second Level Master in Orthognathic and TMJ Disorders Therapy" and secondly the tile of "Master in Oral Implantology" and is still actively engaged with the clinical research activities of the University.
He is an author and co-author of different national and international scientific publications, spokesman at international conferences and has reached thousands of colleagues and patients via his articles, videos and reviews in the field of dentistry.
Futhermore, Dr.Fabbro's drive in improving individual smiles also led him to attend internationally renowned courses in aesthetics and prosthetic dentistry.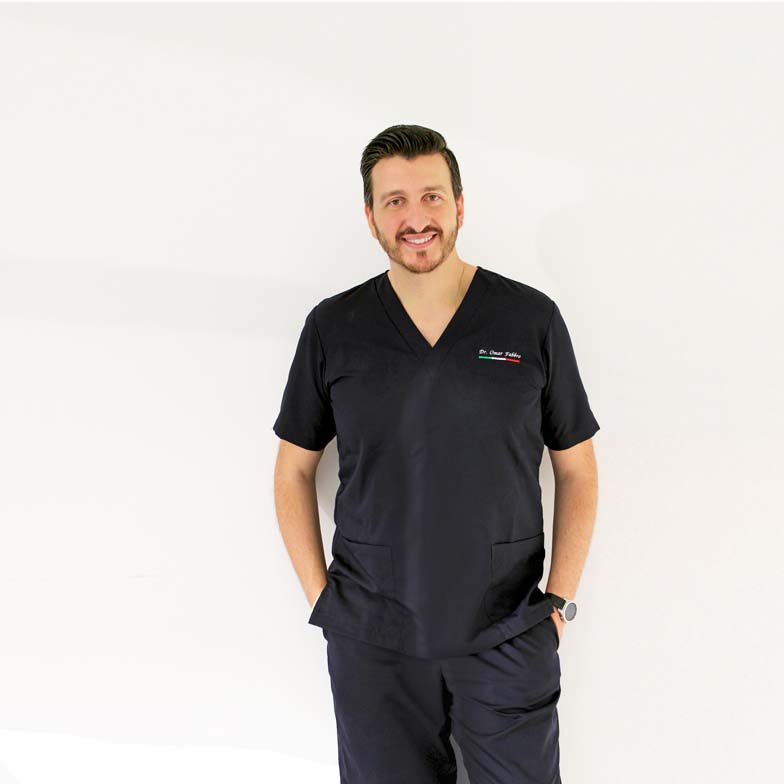 Call us now or fill the form
to see if you are eligible for a FREE consultation.
Trust what they say about Dr.Fabbro
From a bad experience with other dentists who advised to do a major treatment which is not even necessary. I went to this doctor, my experience went very well. He understand patients thanks to Dr. Omar Fabbro for a job well done!
The experience at the seven dental clinic was really positive. The clinic looks very nice and the staff is very professional and keen to help.
Dr. Omar Fabbro found the problem that I was facing for 2 months. He told me exactly what I needed, what had to be done immediately, what could be done later. The explanation was very clear.
I really appreciated that, and I strongly recommend Dr. Omar Fabbro.
The free parking behind the clinic is a plus.
CEO
I was traveling for work in Dubai and unfortunately I had a dental emergency.
Luckily one of my contact in Dubai suggested me Dr.Omar Fabbro, the Italian Dentist of the Centre, so I contacted him and went to his Dental Centre.
The Clinic is really beautiful, located in a lovely area of the city, and they warmly welcomed me offering some refreshments.
Dr. Fabbro understood my problem and my needs and explained to me in detail what was needed and the timing.
The work was done superbly and I have to say that it was the best experience I have had so far with dentists.
Dr.Fabbro is doing a great job!
CEO